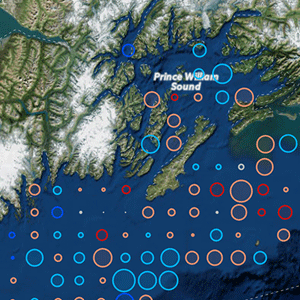 IPHC Setline Surveys
---
The International Pacific Halibut Commission (IPHC) conducts annual surveys that collect standardized data used for halibut stock assessment. This interactive web map displays the station locations and regulatory areas where the annual setline surveys occur. The data used in this exploratory analysis are from 1998 through 2015, and include total count and weight of fish at each survey station. The code for this web map can be viewed on Github.
Languages: JavaScript, HTML, CSS
Applications: QGIS, ArcMap, KNIME, Illustrator
Libraries: Mapbox, LeafletJS, jQuery, jQuery Sparklines
Data Sources: International Pacific Halibut Commission
View Web Map
Student Attrition Rates
---
This map compares 2014 Kenyan primary (grades 1-8) and secondary (grades 9-12) enrollment totals of girls and boys by county. Data for this analysis were collected as part of the 2014 national schools census. The size of each circle on the map corresponds to countywide enrollment, where larger circles represent greater enrollment totals.Each symbol is apportioned and assigned a color by gender.The code for this web map can be viewed on Github.
Languages: JavaScript, HTML, CSS
Applications: Illustrator, Excel
Libraries: Mapbox, LeafletJS, jQuery
Data Sources: Kenya Open Data Portal
View Web Map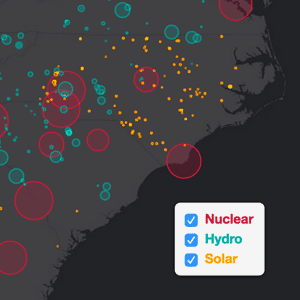 U.S. Power Plants
---
This interactive bivariate web map displays nuclear, hydroelectric, and solar power plants within the United States, symbolized by fuel source and energy output. The proportional circle symbols indicate the amount of power produced from one fuel source. The user can click any blank area on the map to visually filter power plants within 500 kilometers from the click location, then click on a power plant location circle to display its attributes and distance from the original click point. The code for this web map can be viewed on Github.
Languages: JavaScript, HTML, CSS
Libraries: LeafletJS
Data Sources: U.S. Energy Information Administration
View Web Map
The Digital Nomad Map
---
A playful CARTO map that displays the result of a nationwide, ten linear mile proximity analysis between public campgrounds and public libraries. In this analysis a maximum ten-mile linear hub-line feature is included to quickly visualize the nearest campground-to-library relationship.
Languages: JavaScript, HTML, CSS, SQL
Applications: QGIS, KNIME, CARTO
Data Sources: POI Factory and USACAmpgrounds
View Web Map
Greenhouse Gas Emissions
---
This interactive map displays 2014 greenhouse gas (GHG) emissions from large U.S. waste facilities, in addition to summarized GHG totals per square kilometer by state. Both choropleth and graduated symbology were used to display these data.
Languages: JavaScript, HTML, CSS, SQL
Applications: QGIS, CARTO
Data Sources: US Environmental Protection Agency
View Web Map
Cancer Mortality Rates
---
This interactive web map shows the distribution of cancer rates averaged over a 5-year period (2008-2012) by county. The data were downloaded from the National Cancer Institute and displayed as a choropleth map where mortality rate is averaged per 100,000 residents.
Languages: JavaScript, HTML, CSS, SQL
Applications: QGIS, CARTO
Data Sources: National Cancer Institute
View Web Map
Historic Appalachian Trail
---
This print map combines the use of contemporary geospatial technologies with historic cartography. The Appalachian Trail is overlaid with a georeferenced copy of the 1957 Landforms of the United States map by Erwin Raisz. This map was created by georeferencing ground control points and graticule interseactions dispayed on Raisz' historical map with a present-day graticule grid.
Application: QGIS
Data Sources: David Rumsey Map Collection, Appalachian Trail Conservancy and Natural Earth
Bus Stop Friendly Berlin
---
This ¾ kilometer buffer analysis of bus stop locations displays one of the many excellent public transportation options available within Berlin, Germany. All data, including bus stops, roads, boundaries and water features were downloaded from OpenStreetMap and designed in QGIS.
Applications: QGIS utilizing SQLight (SpatiaLite) database, OpenStreetMap
Data Sources: OpenStreetMap
North American Breweries
---
A hexagonal binning technique (hexbins), was used to create this high density heatmap. Brewery point location data were aggregated into individual 50-kilometer diameter hexagonal polygons and symbolized according to quantity. Denver, Colorado has the highest density of breweries in North America.
Applications: QGIS, Photoshop
Data Sources: POI Factory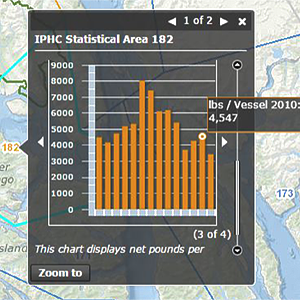 IPHC Statistical Harvest Data
---
The International Pacific Halibut Commission (IPHC) studies the management of the stocks of Pacific halibut (Hippoglossus stenolepis) within the Convention waters of the United States and Canada. Commercial fishing is still permitted under certain circumstances within Glacier Bay National Park. This screenshot displays an interactive web map developed for the National Park Service that combines both spatial and temporal IPHC statistical harvest data.
Languages: ActionScript, JavaScript, HTML, CSS
Applications: ArcMap, ArcGIS Viewer for Flex
Data Sources: International Pacific Halibut Commission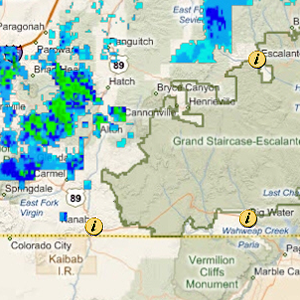 Real-time Visitor Weather App
---
This live, interactive weather application was designed for the Visitor Information Stations throughout Grand Staircase-Escalante National Monument, Utah. This mashup combines GIS, Monument data, streaming National Weather Service radar data, weather watches, warnings, and public alerts.
Languages: JavaScript, HTML, CSS
Applications: ArcMap
Data Sources: National Weather Service
Offline Scalable Land Use Maps
---
This interactive map viewer website designed for public use with limited or nonexistent Internet connectivity in rural Alaska. The site provides scalable, detailed information covering a large portion of the state in a manageable and intuitive format. The user can locate and print a desired location targeted to their land use needs.
Languages: ActionScript, JavaScript, HTML, CSS
Applications: ArcMap, Photoshop, Flash
Data Sources: Bureau of Land Management
3D Modeling
---
This 3D representation of a developed area within Yellowstone National Park is one of many building alternative samples included in the planning process to replace a derelict structure. 3D rendering allows planners to conceptually visualize a structure in relationship to the surrounding terrain and adjacent cabins prior to construction.
Applications: ArcScene, ArcMap
Data Sources: National Park Service
Escalante River Watershed
---
The Escalante River Watershed Partnership is of an ongoing collaborative effort of 22 federal agencies and NGOs dedicated to the eradication of invasive species within the Escalante River watershed. This cartographic design example is of a stream buffer analysis designed to assist workers engaged in vegetation treatments within Grand Staircase-Escalante National Monument, Utah.
Applications: ArcMap
Data Sources: Bureau of Land Management
Tlingit Placename Illustration
---
Glacier Bay, Alaska is the ancestral homeland of the Huna Tlingit. The Little Ice Age, a geologically recent glacial advance reached its maximum extent in the mid 1700s. The geographical placenames associated with the geology of this landscape are still part of today's Tlingit language. This map was designed as an anthropological research illustration and displays the retreating glacier layered over the current geography of the area.
Applications: ArcMap, Photoshop
Data Sources: National Park Service
Professional Audience Website
---
This informational website and graphic design example was created for a professional audience. The Dark Age Probe website was used as a medium to present a concept study project to the Jet Propulsion Laboratory.
Languages: JavaScript, HTML, CSS
Applications: AutoCAD, Photoshop, Dreamweaver
General Audience Website
---
The Riparian Buffers website was designed as an interactive, Adobe Flash-based, informational site created for a general audience. Similar to cartography, this example exhibits large amounts of visual information displayed in a simple, intuitive and minimalistic design.
Languages: ActionScript, HTML, CSS
Applications: Flash, Photoshop, Dreamweaver
Young Audience Website
---
An interactive, educational website designed to delight a young audience. Usability considerations for this demographic were incorporated into the design process and include larger buttons, multiple graphic elements, cheerful colors and an adventurous theme.
Languages: ActionScript, HTML, CSS
Applications: Flash, Illustrator, Dreamweaver